Acts like a super compressor or limiter to ensure levels stay below 0dB

Designed to provide automatic gain control of your input signal
Can be used on master or individual tracks, to finalise your tunes or to be creative
Provides precise dynamic control: threshold, reset time and make up (raise)
Adjustable detection algorithms and filters
Stereo Link, from dual mono to full stereo processing
Suitable for any situation, going from subtle to drastic changes
Multi-waveform graph of pre and post signal processing with 6 seconds buffer!
AUv3 for iOS (iPad/iPhone) and macOS (sold separately)
On macOS, supported by: Ableton Live, Logic Pro, GarageBand, Reaper

Get your FAC Maxima T-Shirt
Super compressor/limiter, ensures levels stay below 0dB
FAC Maxima is an audio effect designed to provide automatic gain control of your audio materials to ensure that the levels stay consistent and never exceed 0dB. It's a clever combination of dynamic processors that can be set to provide a gentle transparent signal boost respecting the initial dynamic or significant colorised level maximisation. Thanks to a unique signal path, algorithms and a small set of parameters, FAC Maxima makes a complicated task easy.
Following the diagram below, the sound flows from the left to right or from the input to the output.

Input

Gain (up to 15db) Use it carefully


→ Graph
Multi-waveform graph. Input signal upfront, processed output behind. 6 seconds buffer! Touch the graph to freeze the display temporarily.

Automatic Gain Rider

Threshold sets the level at which the detector starts working
Reset - time the detector takes to return to the detected level
Raise - gain compensation from none to full compensation
Detector modes - Slow, Mid, Fast, Inst (Instantaneous) and Sub (Safer mode)
Input filter modes - LCUT, HBST, Both or Clean

Output

Link blend dual mono to full stereo signal processing
Dry/Wet mix signal control
Gain (up to 15db) Use it carefully
Bypass
GETTING MAXIMUM QUALITY

Reset and Detector modes are key parameters to ensure that the quality of your signals remain high. Keep in mind that having Inst (Instantaneous) Detector modes and very short Reset time will lead to some artefacts in some context. They are provided to give versatility, the most secure approach is provided by the preset Master (La Donna). In other words slow detection and slow reset.
In addition to the classic final stage application, FAC Maxima excels on individual tracks too. With a few changes it's easy to go from the common gain deviation compensation, e.g. for vocals, to drastical audio changes that will bring your audio material to new territories: boost reverb tails, flattenize drums… The applications are various and the possibilities are limitless:
Get the final touch!
FAC Maxima definitely makes audio louder and that makes it an effective tool in many mastering engineers' arsenals.
Be creative!
Emphasis subtitle details, sometimes floor contains treasure, you will have a completely new listen to your old tracks! The audio background may indeed contain noise, but sometimes also "pearls" that may be revealed.
Go further!
Tired by the advertisement boost, or important speech level variation in broadcasting? Use FAC Maxima to maintain the level constant. DJ's may also benefit from the effects to normalise in real time the level of the mixed tracks.
As with all FAC products the interface has a unique sober look and provides a great user experience. FAC Maxima also brings a real-time multi-waveform graph having a 6s buffer of the audio material before and after operations, this will help on setting the right parameters and have a visual feedback.
Preset Management
FAC Maxima also comes with some factory presets to provide you a source of inspiration to satisfy your needs in any gain modifications you might require.
The preset button provides common management features: loading, organization, and saving. The left and right arrows allow fast navigation short cut among all the presets (factory + user), a short press on the center label provides a detailed list of all the available presets, select the one you want to work with. On the other hand a long press (hold) provides contextual operation. For factory presets it's possible to save the current preset to a user preset, for user presets it's possible to rename, save and delete the current preset.
Warning about the "Larsen effect" in the main iOS host app. In the input section, it's possible to choose a mic as input. This may cause audio feedback, check your levels to avoid any damage to your system. In general, use the gain and feedback in parsimony, to avoid any excessive levels that may damage your ears or your system. FAC Maxima shall not be liable for any loss or damage of whatever nature (direct, indirect, consequential, or other) to your material (software, hardware, or other).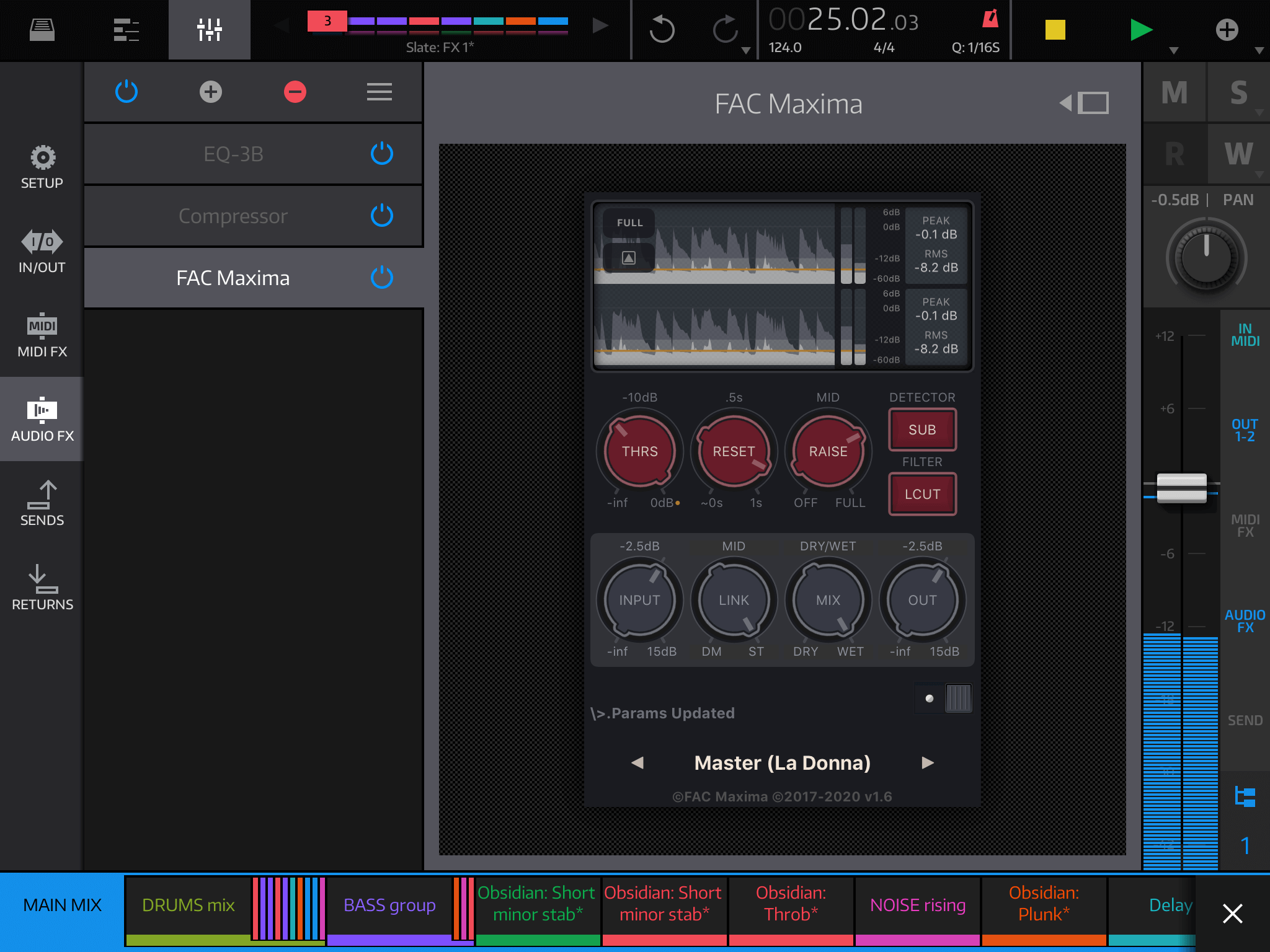 FAC Maxima - NS2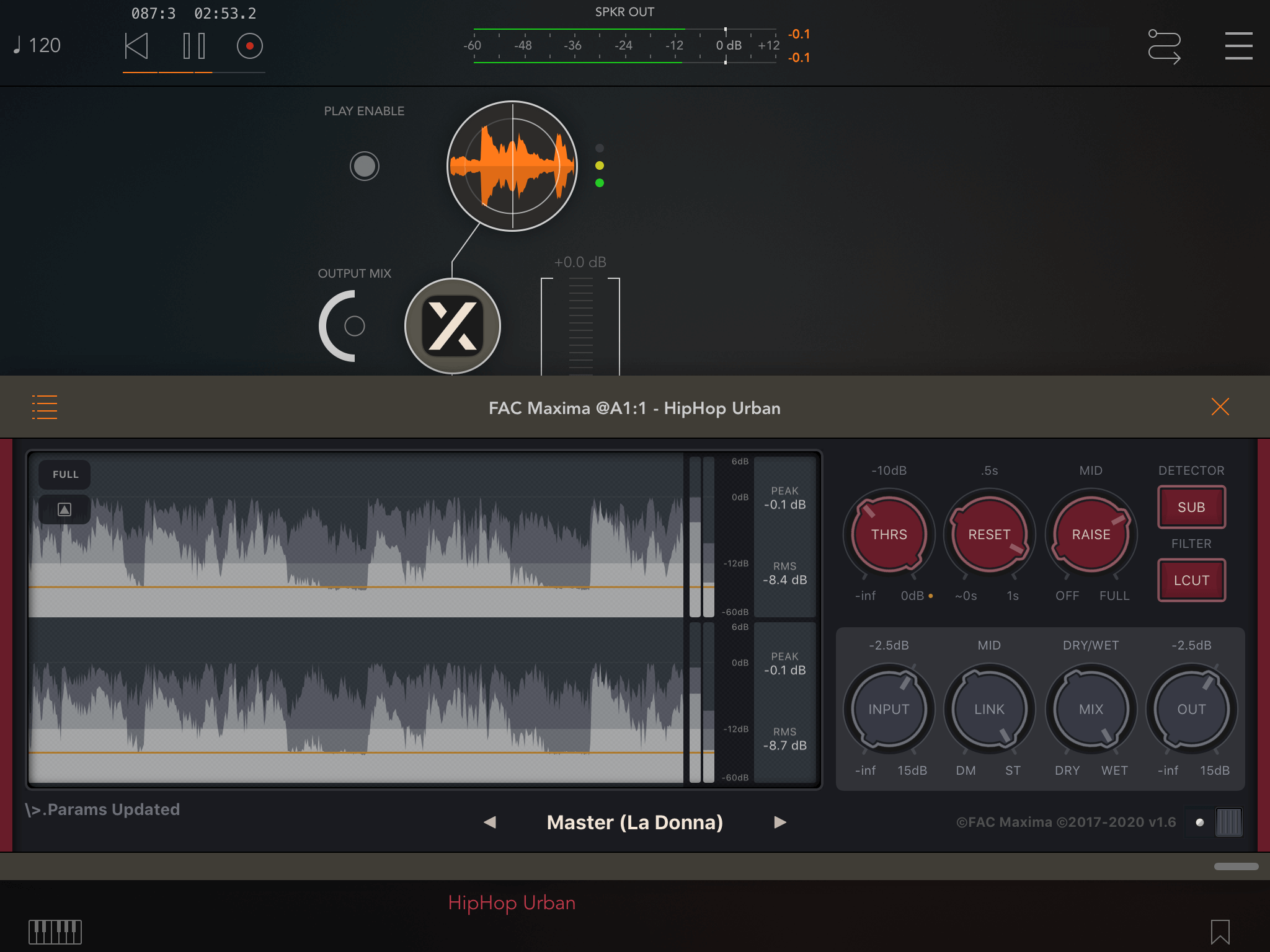 FAC Maxima - AUM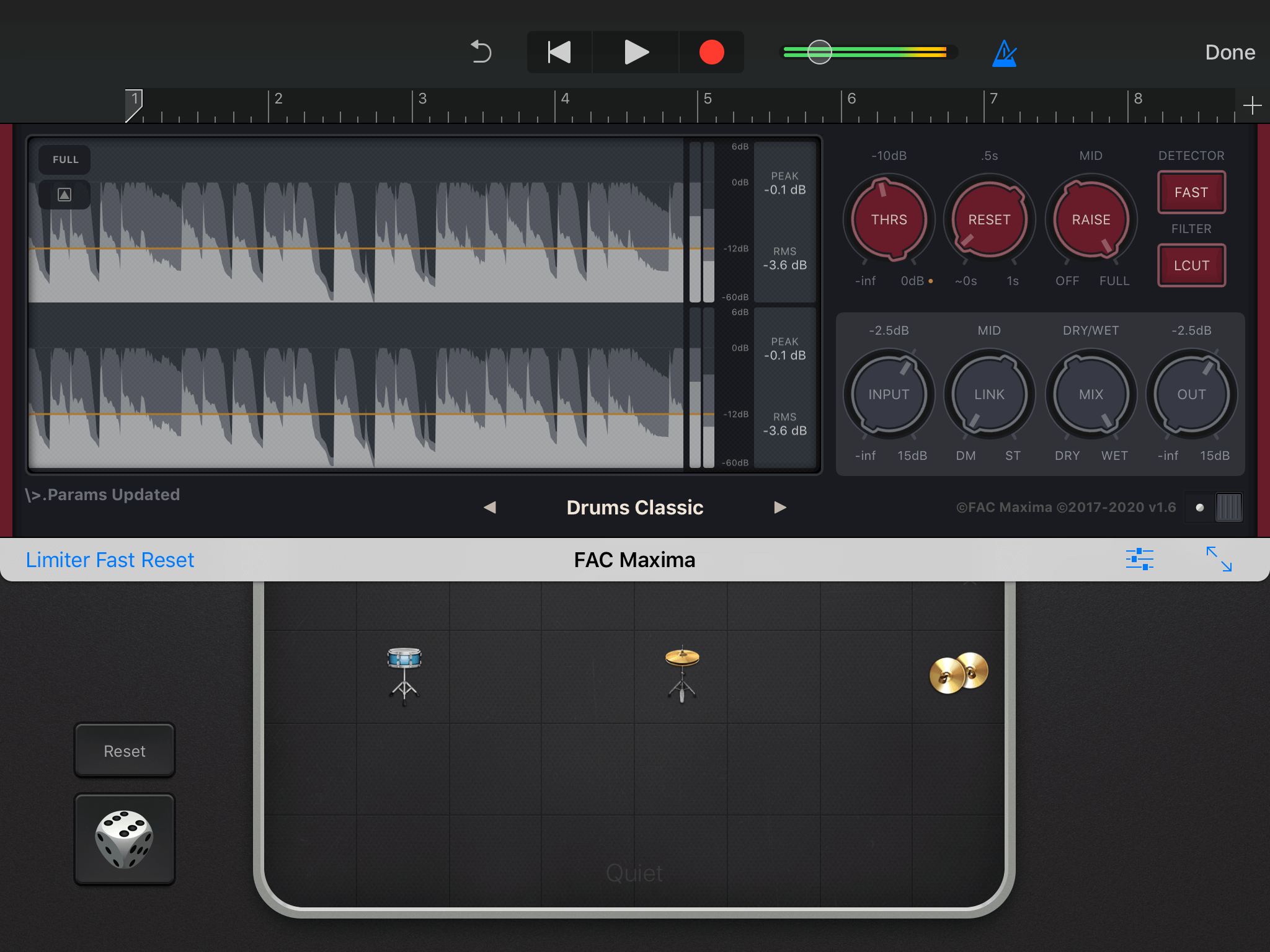 FAC Maxima - Garage Band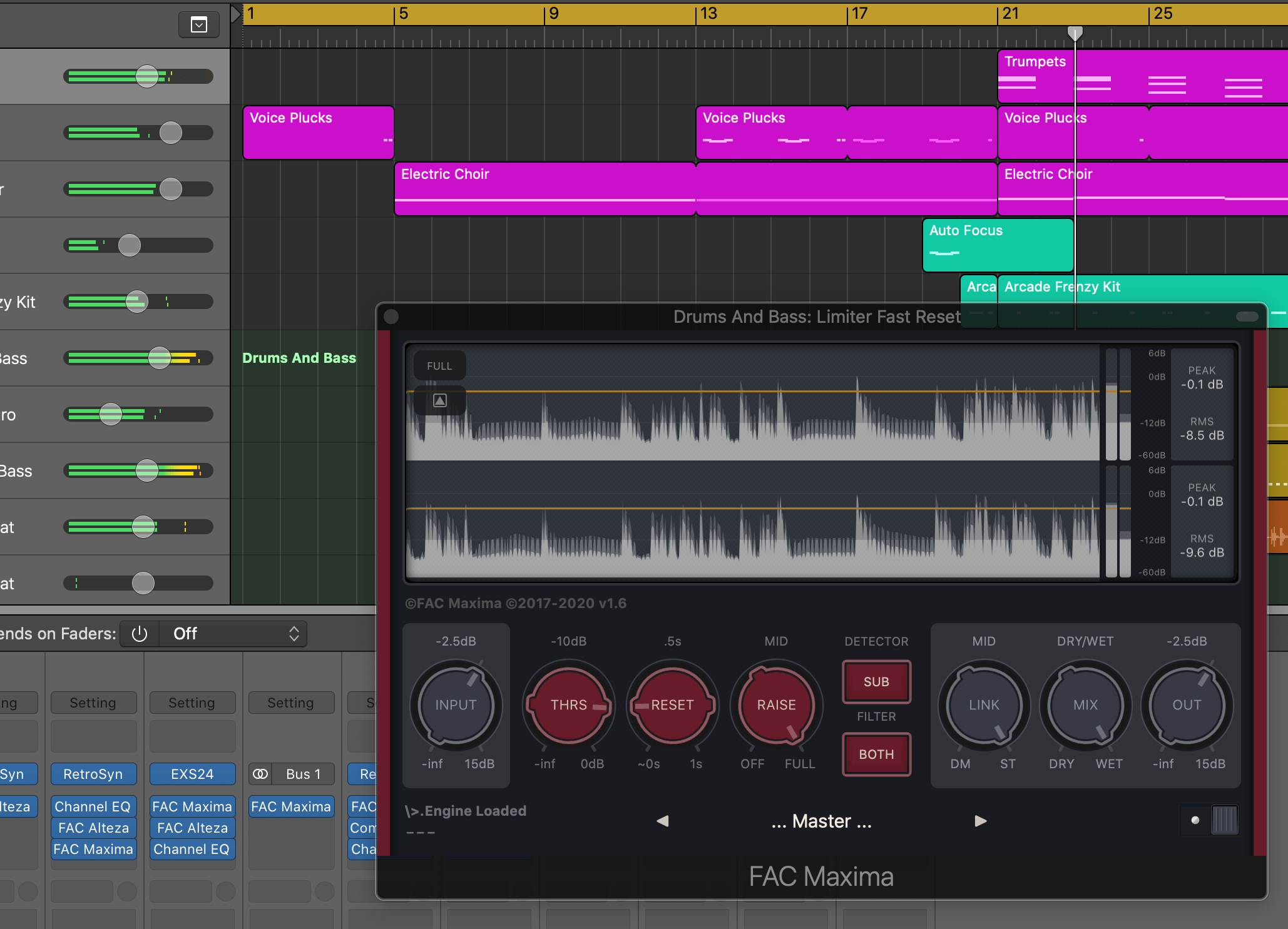 FAC Maxima - Logic Pro X
Music technology journalists
Check out what musicians think about FAC Maxima
Review Fac Maxima
on the App Store
Review Fac Maxima
on the Mac App Store
It's very very good, in fact I think it's awesome, definitely one everyone should have. This is an app that is really needed, it's simple and easy to use and doesn't colour the sound in anyway, which is crazy important for a Limiter

Thesoundtestroom
Perfect, no distortion. I love it, a handy and essential mix tool. Hats off to you for another gem

Jake Kito
I'm playing around with it and with all kinds of Rozeta apps and an additional reverb. It's great! Blows life into it very easy! I've tried a few maximizers limiters on iOS but none was so easy responding like yours. Great work!

Thomas Büchel
Another awesome app from FAC!!! This one gives a huge boost, while remaining completely transparent!!

Sean
Transparent and loud, a real asset that belongs in the mix chain. Thanks Fred, your apps are truly exceptional. Congrats and all the best
Lenny Parry
I have tested all top apps of the same kind against it, none could boost signals (differentiated) as good as FAC Maxima! Must have!

Jay Zen