The chorus you've been looking for the whole time!



Engineered to mimic the behaviour of some famous classic chorus modules
Provides some unique features such as the chorus type
Feedback control, gives metal characteristics to the sound or makes it fuller
Suitable for any situation, going from subtle to drastic changes
Super clean and smooth UI, very responsive knobs
AUv3 for iOS (iPad/iPhone) and macOS (sold separately)
On macOS, supported by: Ableton Live, Logic Pro, GarageBand, Reaper

Get your FAC Chorus T-Shirt
May be the chorus you've been looking for the whole time!
The interface has a unique sober look and provides a great user experience. The value of each knob can be monitored at any time and a VU meter provides an accurate visual monitoring of the output signal levels. The knobs are very responsive, natural and follow a specific curve according to the parameters type.
The effect is built upon two individual delay line paths controlled by common parameters. The behaviour of each delay signal path is defined by the chorus type parameter. Thick type means warm characters and emulates the behaviour of the BBD. Clean type, as the name says, provides a cleaner sound with a larger modulation.
Following the diagram below, the sound flows from the left to right or from the input to the output.
Input

Gain (up to 15db) Use it carefully
Stereo signal to mono
Bass boost
Input devices*: off, mic, usb devices...

Delay and Modulation

Delay duration
Amount of feedback
Modulation rate
Modulation depth
Chorus mode - BBD, Thick or Clean
Modulation waveform - Sin or Tri

Output

Dry/Wet mix signal control
Gain (up to 15db) Use it carefully
Stereo image width control:
from mono to wide
Stereo output VU Meter


■■■

bigger than 0db


■■■

bigger than -12db


■■■

smaller or equal to -12db
Bypass*

*Available in the provided iOS host app only
Preset Management
A set of factory presets provides an overview of the sonic panel you can obtain. By default you will get all you need to meet your bass, guitar, piano, vocal ... requirements, from famous classic chorus settings to flanger, vibrato, small reverb... The factory presets can be used as starting point to build up your own user presets.
The preset button provides common management features: loading, organization, and saving. The left and right arrows allow fast navigation short cut among all the presets (factory + user), a short press on the center label provides a detailed list of all the available presets, select the one you want to work with. On the other hand a long press (hold) provides contextual operation. For factory presets it's possible to save the current preset to a user preset, for user presets it's possible to rename, save and delete the current preset.
Warning about the "Larsen effect" in the main iOS host app. In the input section, it's possible to choose a mic as input. This may cause audio feedback, check your levels to avoid any damage to your system. In general, use the gain and feedback in parsimony, to avoid any excessive levels that may damage your ears or your system. FAC Chorus shall not be liable for any loss or damage of whatever nature (direct, indirect, consequential, or other) to your material (software, hardware, or other).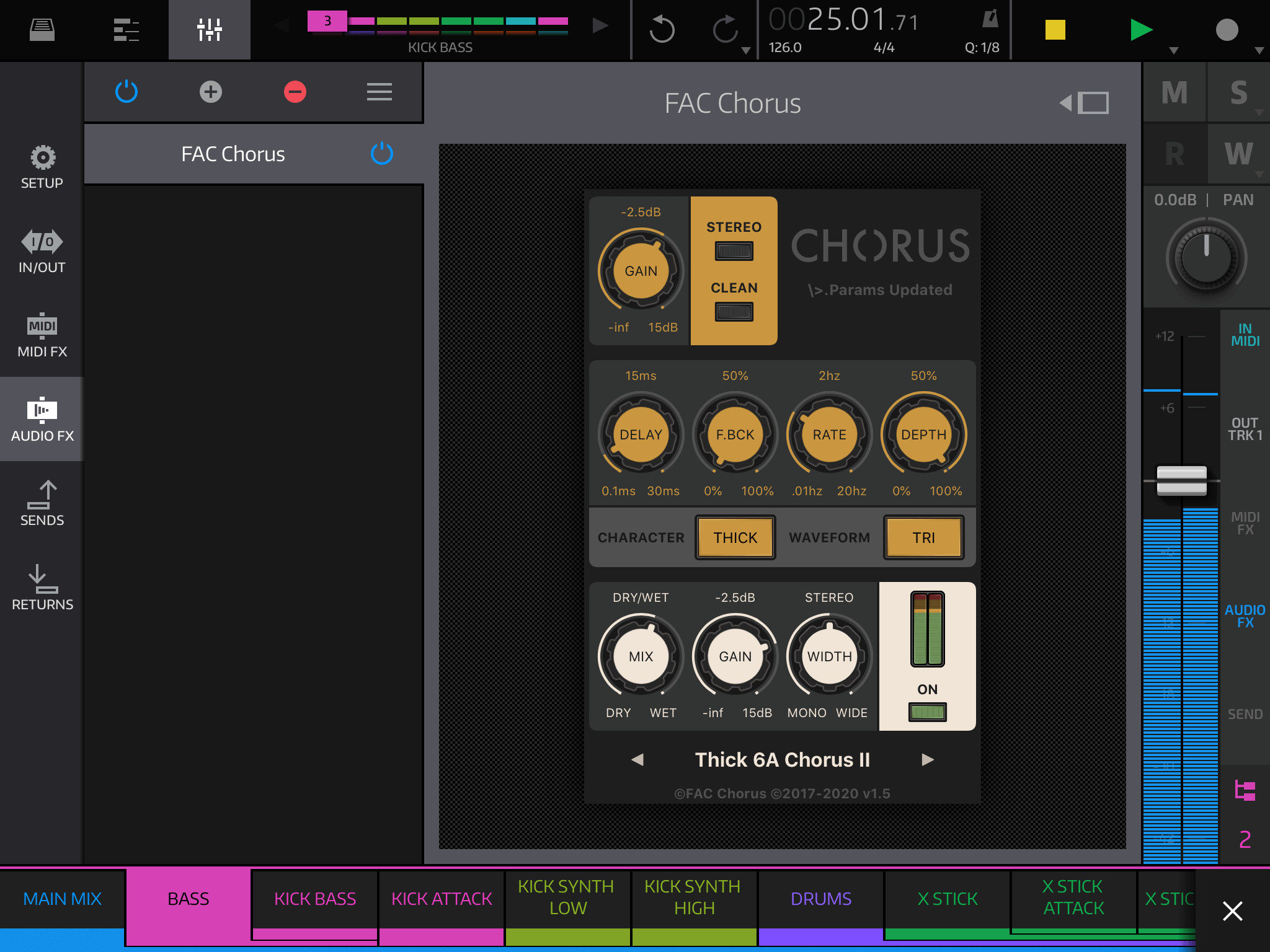 FAC Chorus - NS2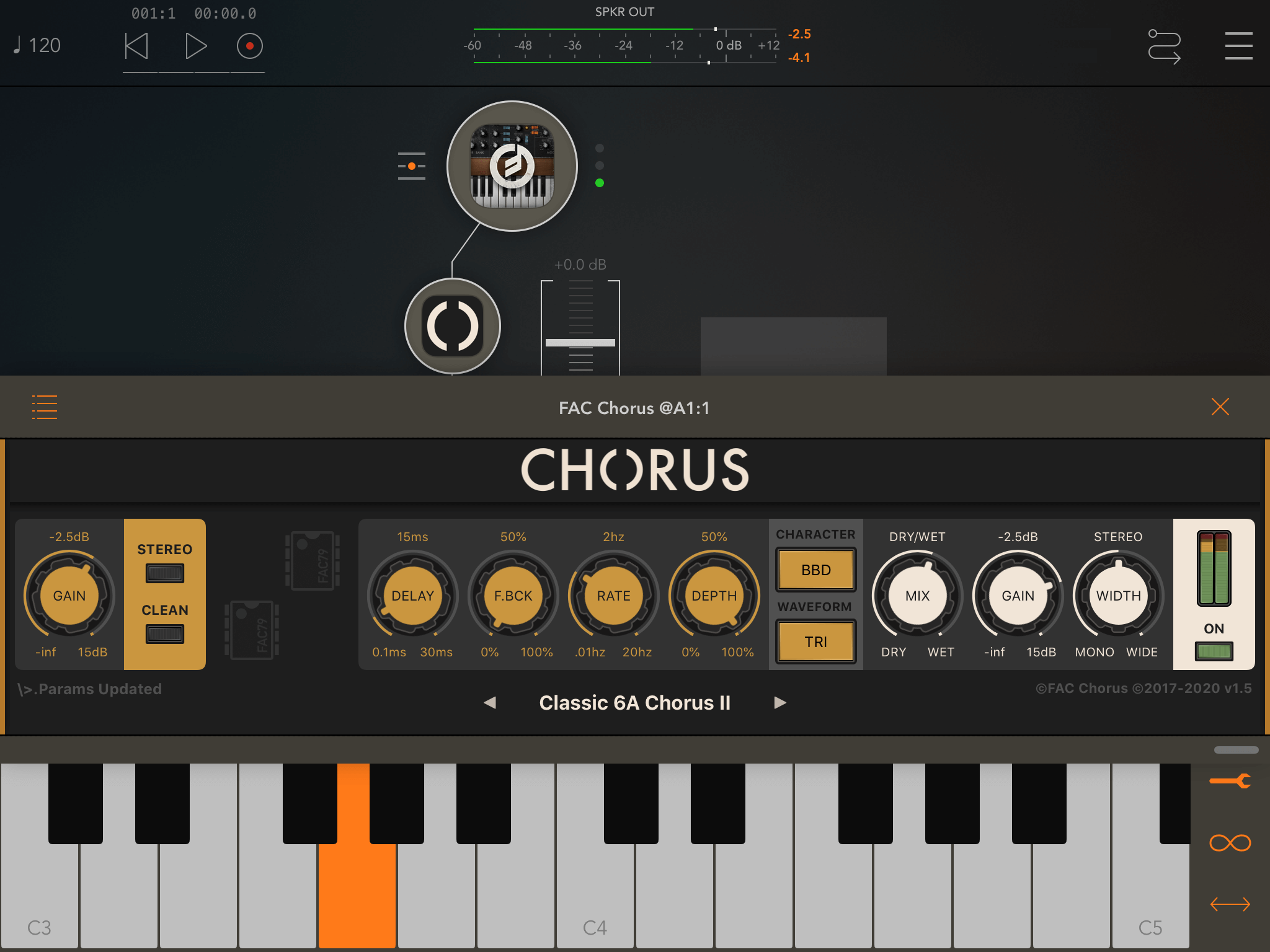 FAC Chorus - AUM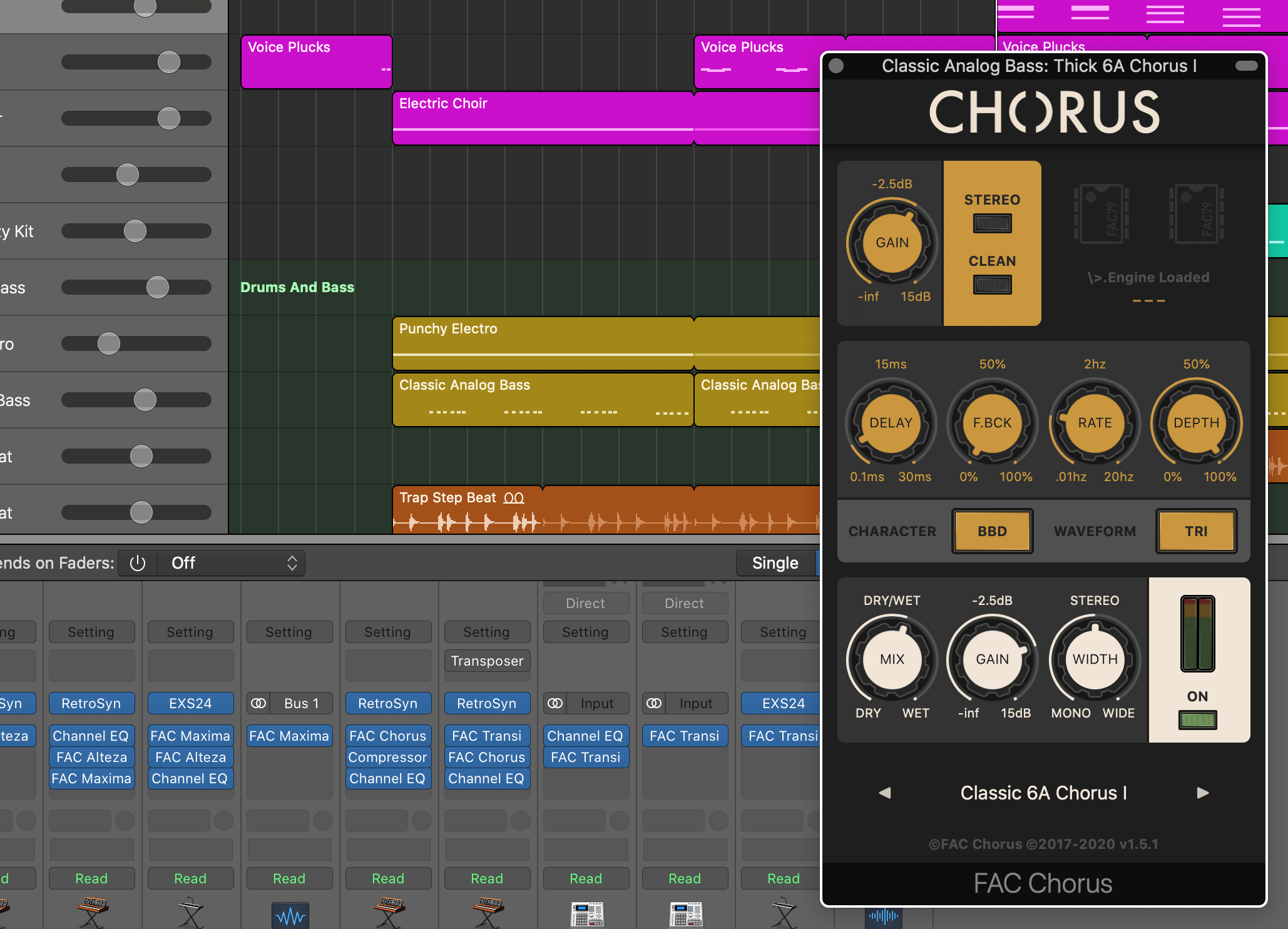 FAC Chorus - Logic Pro X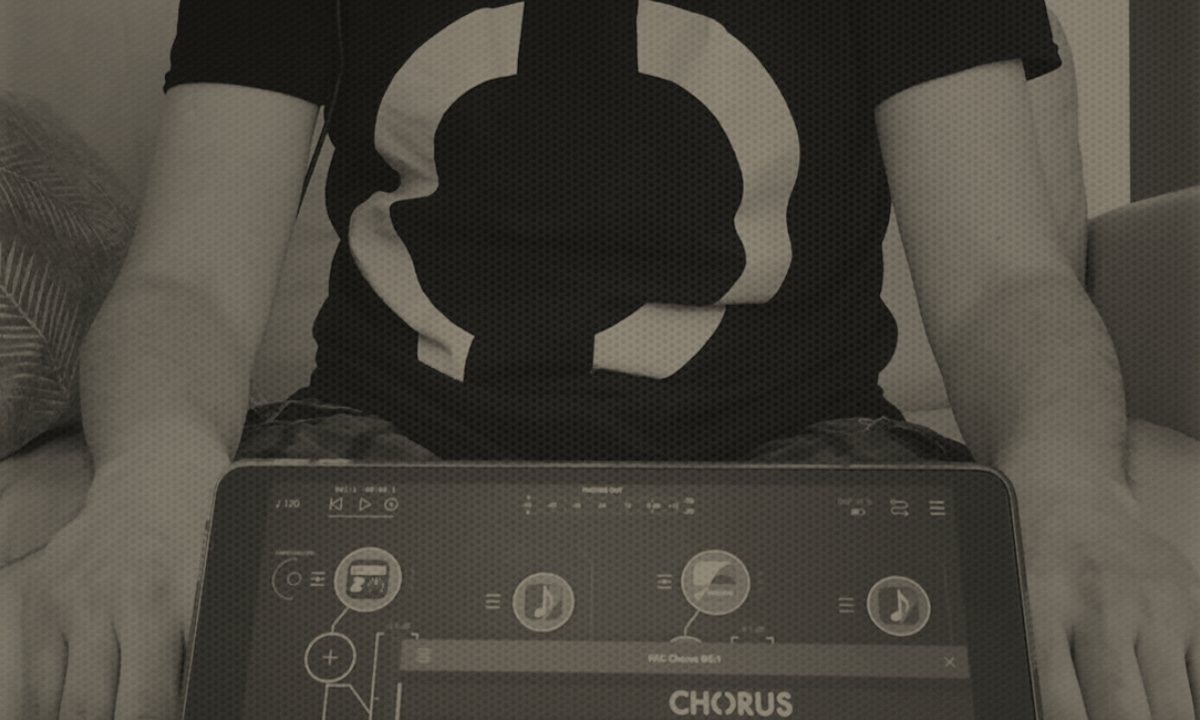 Cyril, iPad Musician
Check out what musicians think about FAC Chorus
Review Fac Chorus
on the App Store
Review Fac Chorus
on the Mac App Store
I'm trying it out right now and I'm already in love with it! Great warm sound, very nice on vocals, bass and guitar. Up to crazy sounds that still sound warm and analogue

Thomas Büchel
I've looked for a Roland Juno-esqe chorus for a long while, and was ecstatic to find this

Sean
I really like it. Nice subtle capabilities and deep, rich and lush strengths

Smite Matter
Thanks for your great effort to make an outstanding FX plugin! Love it truly!

Sergey
This is just spectacularly good, It just lifts the instrument with richness and warmth...lovely

Thesoundtestroom
This app is like hot chocolate with whipped cream...Makes it so warm and yummy

RustiK